Greetings
in our Savior's Nam
e
In keeping with the efforts to reduce the spread of the coronavirus, we are cancelling all Sunday School, regular worship services, and most group activities until further notice. Here are some things you can do:
1.Do daily devotions at home.
2. Go to our church Facebook page.

You can listen and participate in the service as recorded there. Once on our Facebook page, a screen may pop up that asks "Create New Account".

Click on "Not Now" and it will go away.

Then scroll down on the page to where you see the current service and click on the picture.

Wait just a bit and the video will start. May it be a blessing to your worship life in these anxious, difficult times.

*Special thanks to Maria McKinney for all her technical work in developing the videos and posting them to our Facebook page.
3. Pastor Tucker and I will be here on Sunday mornings between the hours of 10:00 and 10:30am to minister to any members who wish to come into the church for confession and absolution, Holy Communion, and personal prayer time. The people may come and go as they wish.
4. The church is available during office hours for any members who wish to come into the church for personal time with God. Contact the church office if you'd like to arrange to have private Holy Communion. (The Board of Elders)
Please remain calm, wash your hands, trust in God, and pray.
We Celebrate The Creator
Our congregation accepts and preaches the Bible-based teachings of Martin Luther that inspired the reformation of the Christian Church in the 16th century. The teaching of Luther and the reformers can be summarized in three phrases: Grace alone, Faith alone, Scripture alone.
See https://www.lcms.org/about/beliefs for further information on beliefs and theology.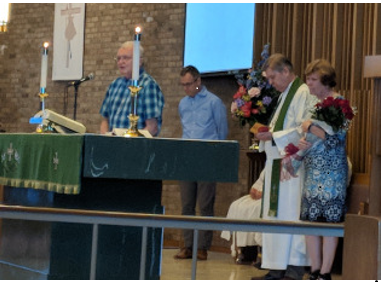 Pastor Recognition
Christ Lutheran celebrating 25 years having Pastor and Jean Schwandt lead the congregation.
"We give thanks for what God has done over these 25 years."
– Pastor Schwandt